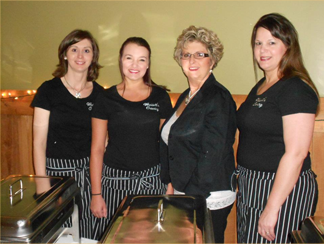 The Waddell's Catering Story:
Gwen Waddell began her catering career in 1989 when she teamed with her husband, Billy, in his catering truck business. Billy had been in business since 1978, but when he and Gwen formed a catering partnership, his already successful business began to soar. Throughout the week, Gwen prepared delicious, home-cooked meals to be delivered to businesses in the Atlanta area. The catering truck quickly became a great success and is still in operation today.
In 2004 Gwen expanded Waddell's Catering by catering for pharmaceutical reps, which entailed preparing, setting up, and serving hot meals, cold salads, and scrumptious desserts. Gwen's meals were a sensation with the pharmaceutical reps and their clients. Waddell's list of pharmaceutical clients continues to expand and gain her recognition.
By 2005, Waddell's Catering had ventured into wedding receptions, church suppers, class reunions, fundraiser dinners, showers, parties, and more. Today, Waddell's caters more than fifty weddings each year in addition to weekly events and other functions.
Waddell's began with Gwen and Billy, but today Waddell's has expanded to become an eighteen member team, which includes their daughter (Tiffany), son (Toby), and daughter- in- law (Amber). A family member is always present at special events and weddings.
Gwen and Billy share their catering passion by providing the most delicious food, prepared to perfection. Their food is served with Southern hospitality and an uncompromising emphasis on customer service, which has made them a catering business of choice for discriminating clients.
Let Waddell's make your event one to remember.